Growing at an exponential rate as a global leader in the field of apparel, Malaysia has witnessed an influx of three promising Asian clothing brands- Oxwhite, Havan Clothing, and Teezlab, that are growing at a steadfast speed in the Malaysian T-shirt Industry. These companies target comparable markets, however their business models use distinct ways to interact with their target audience. Material ownership, production sourcing, and supplementary brand treatment are all handled differently by these three apparel distributors. Let's dive deeper to understand each of these startups and what their focus is.
OXWHITE
A modern lifestyle brand creating quality essential timeless pieces available at affordable prices for the masses. Oxwhite is committed to environmental stewardship, employing sustainable materials, reusable packaging, and eco-friendly goods. Its mission is to deliver a lifestyle that makes you look good and feel good. They are swiftly making their way into Instagram, with roughly 66.5k followers and over 394 posts. With a vivid yet subtle approach, each post is meticulously planned and executed to attract the desired set of audience. Oxwhite primarily uses a promotion connection, conversation, and lifestyle approach to resonate with its audience. The digital team is executing short and long form content with an engagement rate varying from (0.05% to .1%). Oxwhite's affordable range of clothing follows a minimal approach that ties in with daily wear for office or casual purposes. For giveaways and campaigns, Oxwhite frequently collaborates with a variety of other well-known businesses/merchants such as Emma, Photobook, Happyfresh, Getha, Tanamera, Tealive, and Baskin Robbins. Oxwhite teamed up with six businesses for exclusive prizes to celebrate their third birthday. They featured prizes worth more than RM 1 million, as well as discounts and free shipping with every purchase for the month.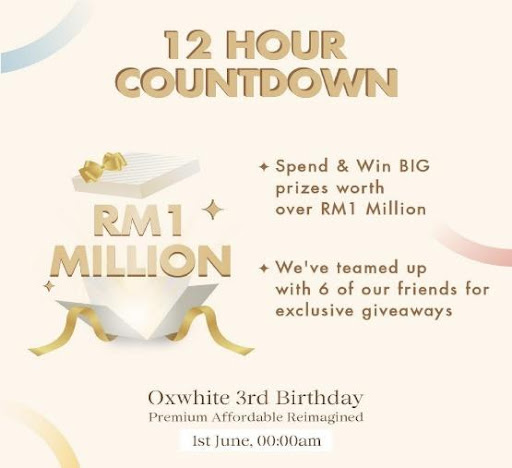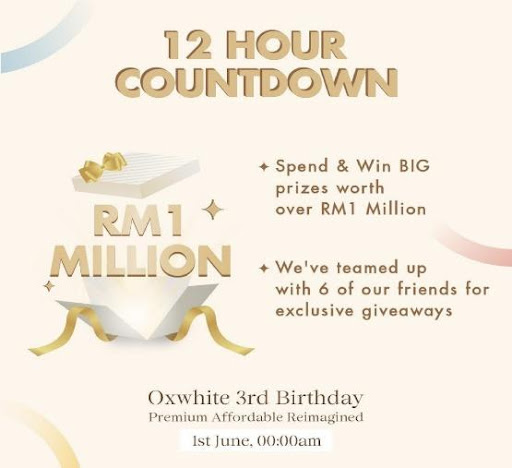 A dash of fashionable hashtags such as #StyleLikeOxwhite, #GiftWithOxwhite, and #CNYWithOxwhite can do the trick of building the right global presence. Their campaigns feature interesting content and demonstrate good audience communication. The brand keeps up with the times by incorporating popular music in its reels, which has resulted in a reach of up to 26.1k views. Customer feedback, press stories, and behind-the-scenes content are packaged together to provide insights into the brand's overall transparency. Oxwhite was also featured on the Business Finance and More radio show.
Havan Clothing
A fashion brand with a mission to empower impoverished children via sustainable fashion and an effective Emotional Intelligence program. They present consumers with quality products with guaranteed pleasure. They have captured\realized the essence of sustainable fashion which leads to a strong mission. Their Instagram page has roughly 332 posts and almost 1900 followers . Havan Clothing is slowly but steadily capturing social media trends with posts that are both positive and consistent with the brand's mission. Their feed has a nice color palette, however, the grid's categorization needs a thoughtful makeover. They mostly aim for promotional and inspirational content to cater to their target audience. The captions put across are extremely captivating and motivational, projecting the engagement scale between 30-90 likes per post.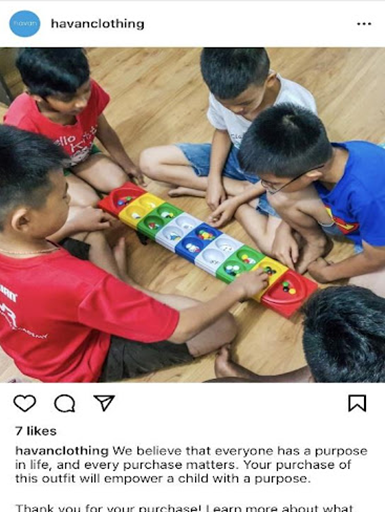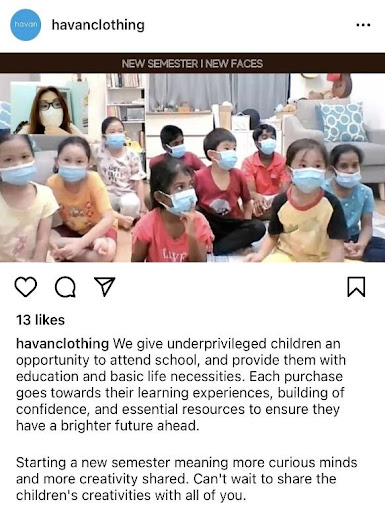 Every T-shirt has a significant meaning that the child's creation represents, thus empowering the next generation. Havan Clothing is a transparent brand that highlights its progress in a quantitative display every year, as well as declares its aim for the future year. Referral programs are in place, and pre-orders for upcoming campaigns are well-coordinated, keeping the audience engaged and entertained. There is usage of a lot of relevant hashtags such as #fashionwithpurpose, #socialimpact, and #urbanstyle, however a little oomph when it comes to reels would aid in more engagement and visibility. Their reels have a limited reach of 174 views at the least , therefore making it the need of the hour to capture trending formats and music. Constructing a highlight section with various significant campaigns, customer interactions and other relevant categories would make their digital presence rock solid.
Teezlab
Teezlab was created to alleviate all the frustrations that parents experience when shopping for children's clothing. They are dedicated to going above and beyond to fabricate comfortable, easy-to-care-for, durable, and economical clothing for children. They create comfortable products in gender-neutral colors with the best quality. Its main goal is to help local artists and small businesses succeed. Teezlab's Instagram page has 2730 followers and 146 posts, with an average of 10-12 likes per post, ascending towards the top day-by-day. Their social media profile is quite expressive and portrays an upbeat approach. The brand keeps its audience coming back because they have a variety of encouraging phrases strewn across its grid. Customer reviews, feedback, and a giveaway area are all featured prominently on Teezlab's page. One of the most important aspects of their social media is that their products are also available on e-commerce website Shopee, which gives them a competitive advantage over others. The captions and hashtags used are quite detailed and appropriate such as #togetherincomfort, #teezlabsupportlocal, and #teezlabfamily. They are sitting at 30 views per reel, at the least, and fewer posts around trends. To ace the digital game, strategizing on reels and topicals would help strike the chord with the audience. Teezlab also works in collaboration with a variety of other brands such as Holdera on giveaways and campaigns.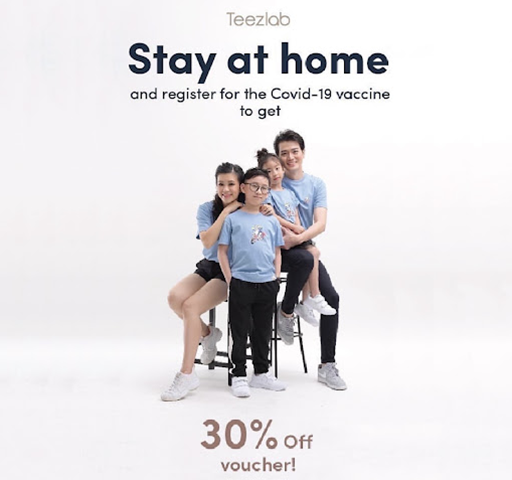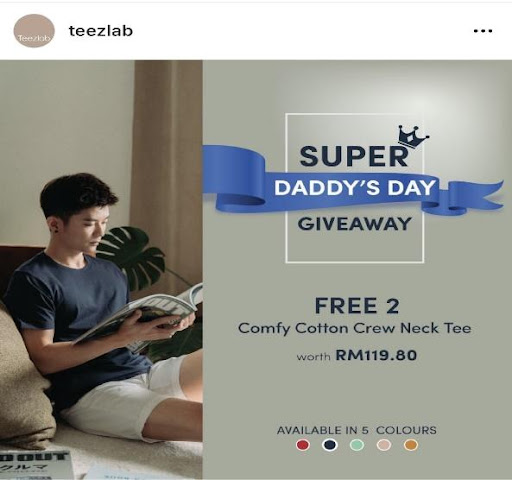 KEY DIFFERENCES
In comparison to Teezlab, which posts Seven or Eight times a month, Oxwhite sends out roughly one or two posts per month. With Nine or Ten posts every month, Havan Clothing's audience engagement is at an all-time high. Whereas, based on the top post section, Havan Clothing is undoubtedly making its imprint in the T-shirt sector, with over 500+ postings in the search hashtag engine compared to Oxwhite and Teezlab with approximately 100 articles.
When we look at the websites of these three brands, we notice that Teezlab does not have a blog section in contrast to Oxwhite and Havan. The brand's response to their audience is of absolute importance. Oxwhite goes above and beyond by responding to comments on their articles, whilst the other two brands do not appear to do so. When it comes to target audiences, all three companies have various sectors that they focus on. Teezlab's major market is children between the ages of 5- 8. Oxwhite and Havan, on the other hand, focus more on the young crowd, but their missions are completely different. As we look closer, Oxwhite clearly has an advantage over the other two brands in terms of social media strategy and tactics in place; it is clear, scenic, and demonstrates the brand's engagement in the job they undertake. Every brand has developed its own method for appealing to its target audience through consistent highs and lows. Our two cents- Keep creating, engaging, and entertaining!