Finally, after all the wait, Bard was launched in the US and UK by Google in the third week of March 2023. The conversational AI chatbot is a large language model directly competing with OpenAI's ChatGPT and Microsoft Bing Chat. At its soft launch, Bard warns users that some responses may be inaccurate.
We took both GPT 4 and Bard for a spin with prompts that were crafted from the lens of a social media marketer. The idea was to explore the level of support these large language models can provide social media marketers and who is doing the job better.
Here are the 5 tasks we choose for both GPT 4 and Bard.
| | |
| --- | --- |
| S.No. | Bard v/s GPT 4 Test |
| 1 | Topical Post |
| 2 | Carousel Post |
| 3 | Influencer Outreach Email |
| 4 | ORM: Handling Negative Comment |
| 5 | Script for Instagram Reel |
Different types of Prompts Given
Round 1: Topical Post
So the first prompt was to write a topical Diwali post for a cleaning services company.
Here is what Bard wrote based on our brief.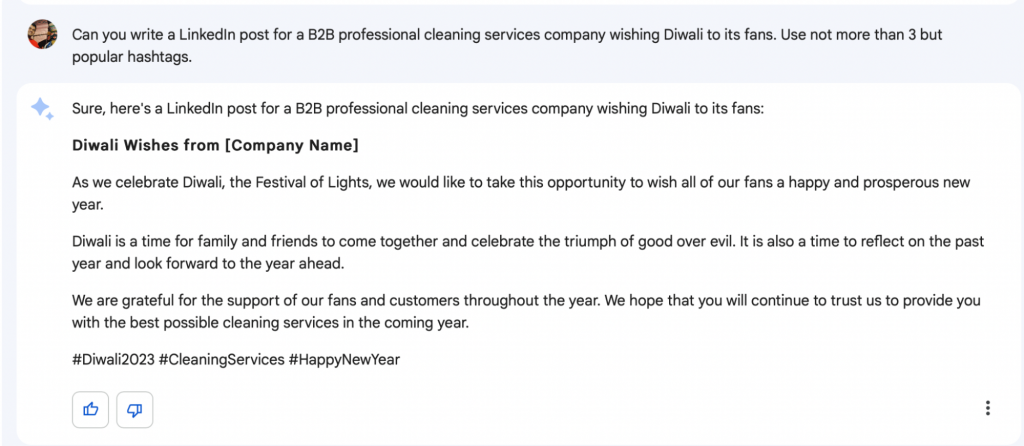 GPT 4's response to the same query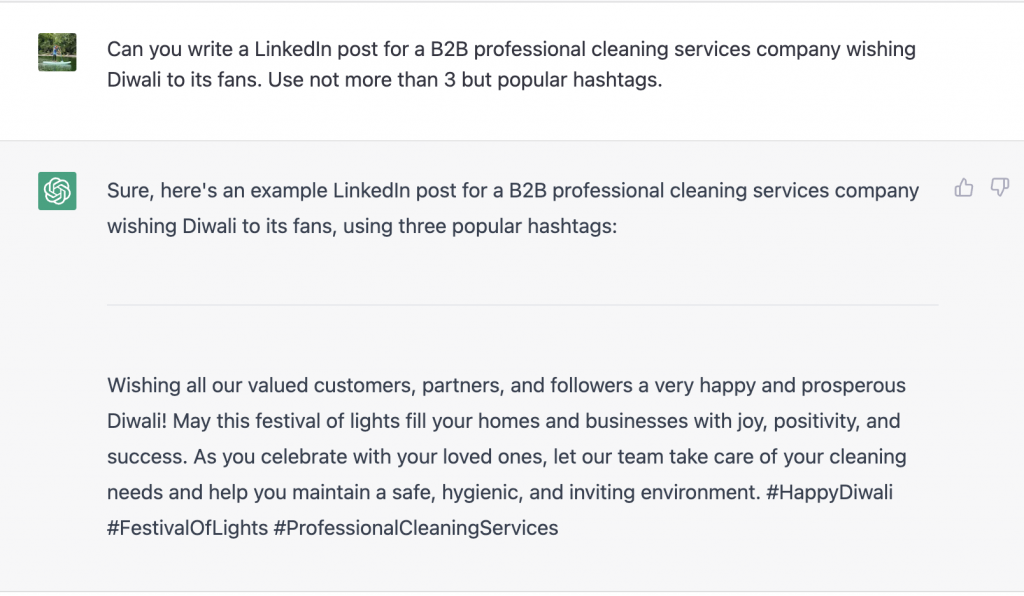 Round 1 Verdict: While both language models gave a fairly well-crafted LinkedIn post, GPT 4's response has a slight edge as the post was contextually relevant to the brand's service offering. In addition, the hashtags were more apt.
1 (GPT 4) – 0 (Bard)
Round 2: LinkedIn Carousel Post
The next challenge was to create a LinkedIn carousel post. "A How to post" on getting the most out of your LinkedIn ads.

Here is how Bard went about this task. One of the things that stands out with Bard is it gives you drafts of each response and you can toggle between the three drafts.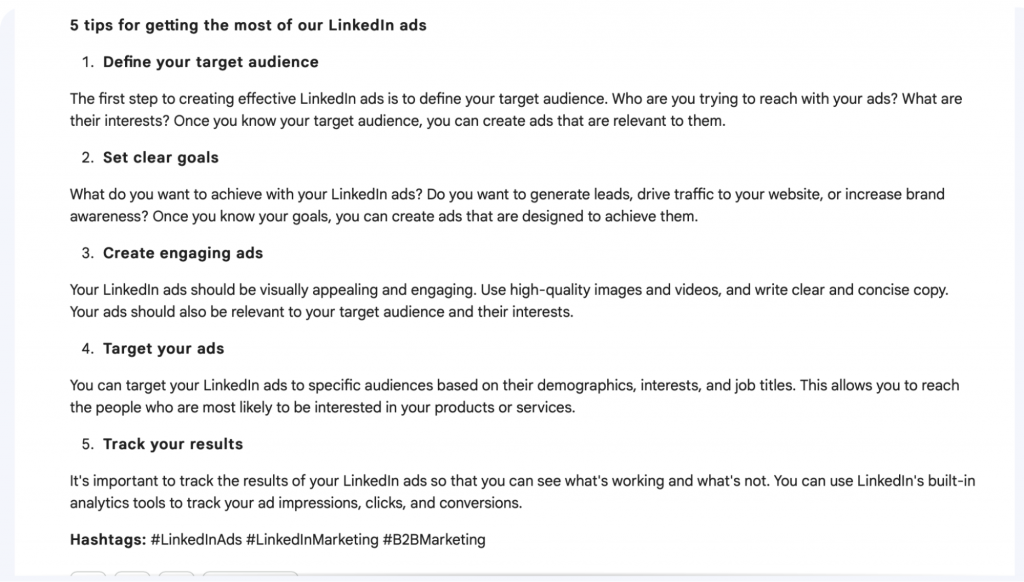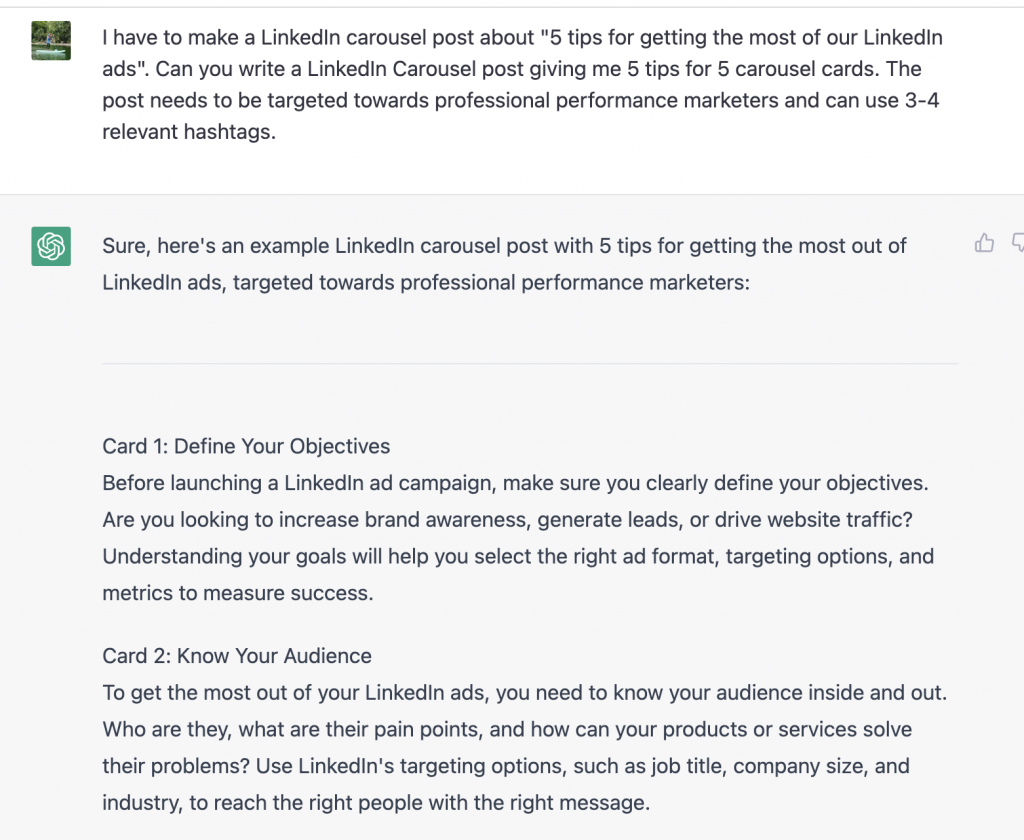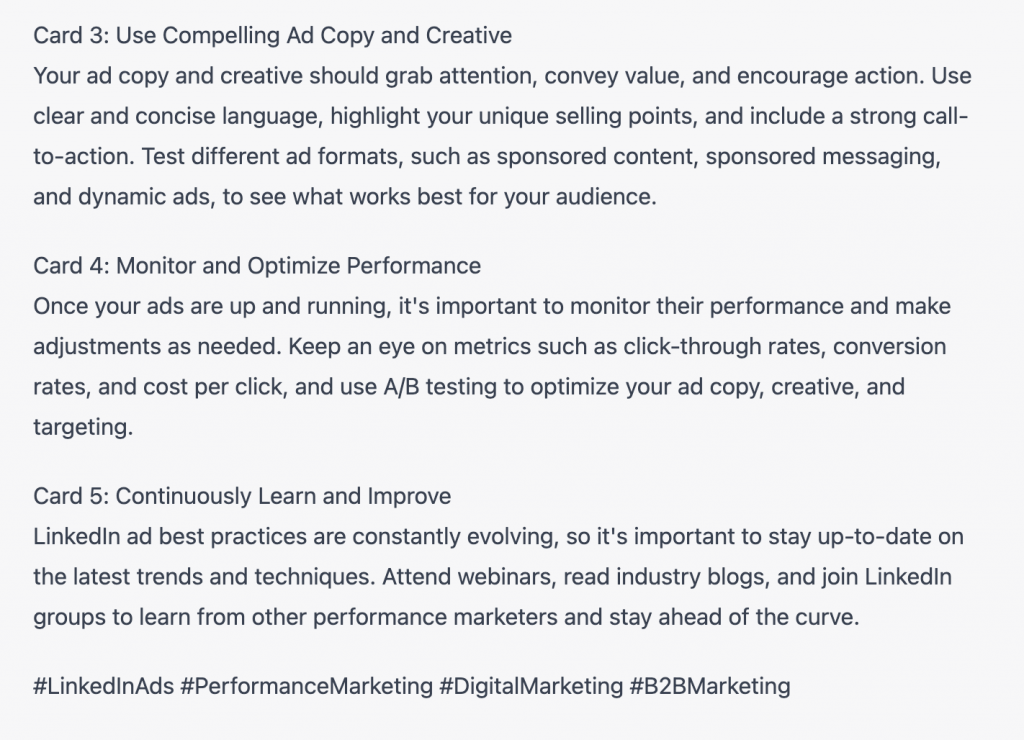 Round 2 Verdict: No clear winner in this round as both did the job fairly effectively.
1 (GPT 4) – 0 (Bard)
Round 3: Influencer Outreach Email
Crafting the perfect email for influencer outreach can sometimes be a very time-consuming task. It involves personalizing your message. How did Bard and GPT 4 fair on influencer outreach emails?
Bard's response to influencer outreach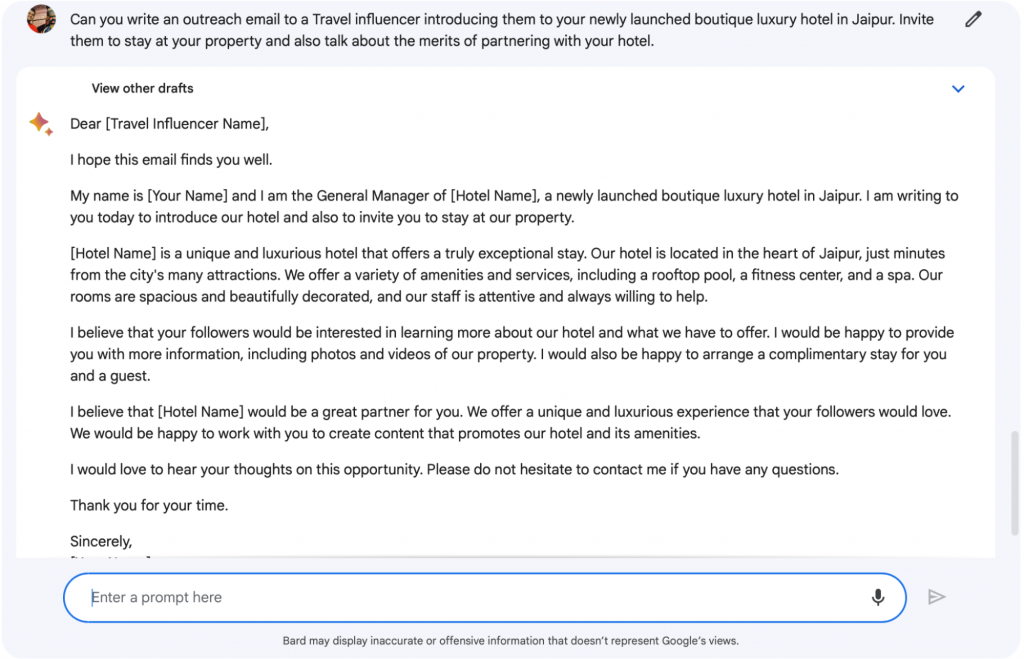 The same brief was given to GPT 4, and its response was elaborate.

Subject: Invitation to experience our newly launched boutique luxury hotel in Jaipur
Dear [Influencer Name],
We hope this email finds you well. We came across your amazing travel content on Instagram and were impressed by your passion for exploring unique and offbeat destinations. As a fellow traveler, we wanted to reach out and introduce you to our newly launched boutique luxury hotel in Jaipur, [Hotel Name].
Our hotel is located in the heart of the Pink City, offering a blend of contemporary luxury and traditional Rajasthani hospitality. From the exquisite interiors and bespoke amenities to the stunning rooftop pool and panoramic views of the city, our hotel promises an unforgettable experience for discerning travelers like yourself.
We would be delighted to invite you to stay at our hotel and experience the best of Jaipur. You can choose from our range of luxurious rooms and suites, each thoughtfully designed to cater to your comfort and convenience.
Apart from the exceptional facilities and services, we believe there are several reasons why partnering with us would be a great opportunity for you:
Unique and authentic experiences: As a boutique hotel, we focus on providing our guests with unique and authentic experiences that showcase the local culture and heritage of Jaipur. We offer curated tours, personalized services, and immersive activities that will make your stay truly memorable.
Collaboration opportunities: We believe that your travel content aligns perfectly with our brand values and philosophy. We would be thrilled to collaborate with you on creating engaging and inspiring content that showcases our hotel and the city of Jaipur.
Mutual benefits: By partnering with us, you can benefit from exposure to our guests and followers, as well as access to our network of travel industry contacts. We are also open to discussing customized packages and exclusive deals for your followers.
We would love to host you at our hotel and show you the best of Jaipur. Please let us know your preferred dates of stay, and we will be happy to make the necessary arrangements.
Thank you for your time, and we look forward to hearing back from you soon.
Best regards,
[Your Name]
[Your Hotel Name]
Round 3 Verdict: GPT 4 was a clear winner for the level of personalisation, detailing and elaboration.
2 (GPT 4) – 0 (Bard)
Round 4: Next up was a test on ORM and we compared how do the LLMs respond to negative feedback from customers.
While Bard was prompt to craft a response, it also offered a full refund for the recent purchase, which assumed that the query was related to a purchase.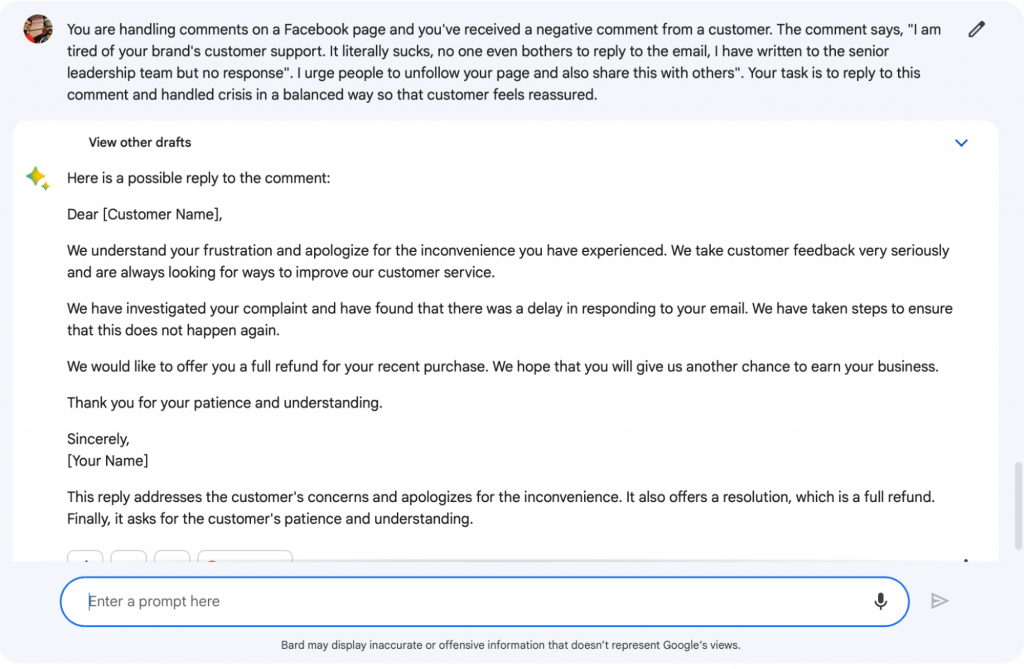 Here is how GPT 4 fared on the ORM test. The response was based on the factual comment of the user and didn't make any specific assumptions.

Here's an example of a balanced response to a negative comment from a customer on a Facebook page
Dear [customer name],
We're sorry to hear about your negative experience with our customer support. We understand how frustrating it can be not to receive a response, and we apologize for any inconvenience this may have caused.
We'd like to assure you that we take all feedback seriously and are committed to providing the best possible support to our customers. We've reviewed your case and have escalated it to our senior leadership team for further investigation.
We appreciate you bringing this to our attention and want to make things right. Please check your inbox for a follow-up email from our team regarding the status of your case. If you have any further concerns, please don't hesitate to reach out to us directly.
Thank you for your continued support of our brand, and we hope to have the opportunity to serve you better in the future.
Sincerely,
[Your name]
[Your brand name]
Round 4 Verdict: While it's early days for Bard, on current responses, GPT 4 appears to be a clear winner.
3 (GPT 4) – 0 (Bard)
Round 5: Can these LLMs assist with the creation of a script for platforms like Instagram? That was our last task as the test was about the creation of an Instagram reel script.
Bard's response was directly created based on the prompt and the segregation of the script was done as per sections for Video, the script itself and sections for Call to action and Questions.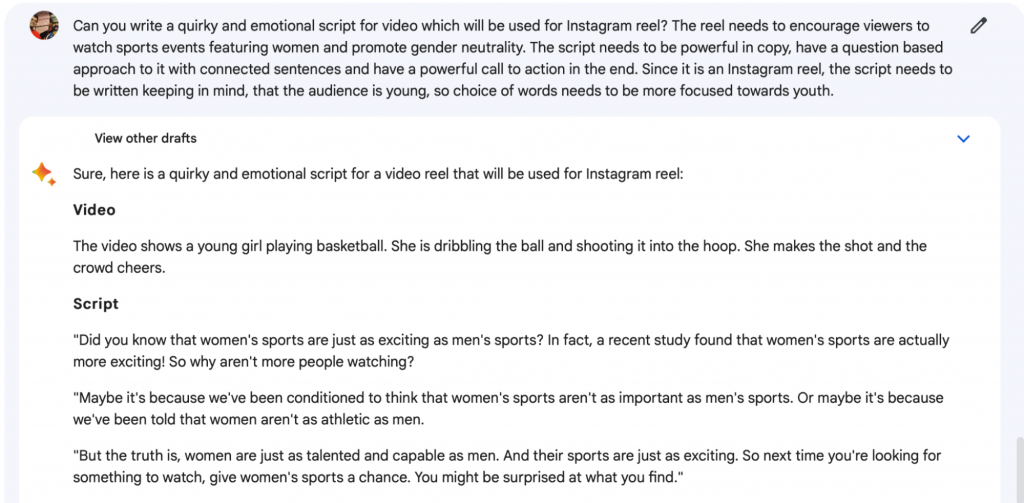 GPT 4's format was closer to how a video script is usually written with a combination of shot + voice-over and CTA.

Sure, here's a script for an Instagram reel encouraging viewers to watch sports events featuring women and promoting gender neutrality:
[Opening shot of a woman playing a sport]
Voiceover: "Why watch sports events featuring women?"
[Cut to a shot of a young girl watching the same sport on TV]
Voiceover: "Because it's not about gender. It's about talent, hard work, and passion."
[Cut to a shot of a female athlete celebrating a victory]
Voiceover: "It's about the thrill of the game, the excitement of competition, and the joy of winning."
[Cut to a shot of a young boy cheering for a female athlete]
Voiceover: "It's about breaking down barriers, shattering stereotypes, and promoting gender neutrality."
[Cut to a shot of a diverse group of fans cheering together]
Voiceover: "It's about coming together as a community, supporting each other, and celebrating the achievements of all athletes, regardless of gender."
[Closing shot of the original female athlete playing her sport]
Voiceover: "So why watch sports events featuring women? Because it's about so much more than just the game. It's about equality, empowerment, and inspiration. Are you ready to join the movement? Watch women's sports today."
[End with a powerful call to action and relevant hashtags]
Call to action: "Let's level the playing field. Watch women's sports and support gender neutrality today."
Hashtags: #WatchWomenSports #GenderNeutrality #EqualOpportunities #EmpowerWomen #InspireChange #YoungAudience
Round 5: By the end of round 5, it's evident that atleast as of now, GPT 4 has a clear edge over BARD in terms of creative thinking, uniqueness of copywriting.
Final Score: 4 (GPT 4) – 0 (Bard)
Summary: These are still very early days for Bard, and perhaps the results would vary when we do this test a month later, but if a Social Media marketer had to pick one best friend as of now, it has to be ChatGPT (GPT 4). The only caveat is the new version GPT 4 comes with a price tag, so if you're willing to pay for efficiency and build on top of the intelligence, it's a no-brainer. However, if the price is a constraint, and Bard will make giant strides from here as Google's data know-how is huge, then you might want to dabble with it. You can also watch this reel to further understand the differences between Bard and GPT 4.
In part two of my column with Social Samosa, I will further explore how media planners can explore GrowthGPT.
This article was first published in Social Samosa.