In today's hyperconnected world, a strong online presence is no longer a luxury, but an essential ingredient for businesses seeking to thrive and stay ahead of the competition. Abu Dhabi, a burgeoning hub of innovation and digital transformation, is home to a diverse array of web development companies, each vying to help you make a lasting impact on the digital landscape.
As the marketplace becomes increasingly saturated, it is imperative that you make informed decisions when choosing the ideal partner to propel your online success. This article aims to be your compass, navigating you through the intricate web development landscape in Abu Dhabi, and offering insights and guidance to help you identify the right fit for your unique needs.
Our objective is to empower you with the knowledge and confidence to select the best web development company in Abu Dhabi, ensuring your online presence shines brightly amidst the digital noise, and setting the stage for unprecedented growth and prosperity.
Understanding Web Development Services
In today's digital landscape, understanding web development services is crucial for businesses looking to establish a robust online presence. Web development consists of two essential components: front-end development, which deals with the visual and interactive elements of a website, and back-end development, responsible for ensuring seamless functionality and data management.
There are primarily two types of web development companies:
Full-service agencies and Specialised firms. Full-service agencies offer a range of services, from website design and development to mobile app creation, e-commerce solutions, content management systems (CMS), Search Engine Optimisation (SEO), and social media integration.
On the other hand, specialised firms focus on specific aspects of web development, such as WordPress web development or web application development, PHP web development, Full-stack web development and more.
Key services provided by web development companies include the following:
Website design and development: The main aim of designing a website is to make it visually appealing and user-friendly. For the same, various aspects such as the layout, UI, UX and content of the website play an important role
Mobile app development: The main aim of mobile development is to create apps that are compatible with mobile devices such as smartphones or tablets. Various aspects include designing, developing, testing, and deploying mobile applications for iOS or Android.
E-commerce app development: The main aim of e-commerce development is to develop secure and efficient online stores, that enables businesses to sell products or services through a mobile platform. The development involves designing and developing an app that can provide a seamless user experience, secure payment options, and reliable shipping and delivery services.
Custom Website Development: For businesses looking to establish a strong online presence and achieve their goals through their website, custom website development is an important investment. A fresh new website is designed and developed to meet a brand's unique needs, while also providing an optimal user experience for their customers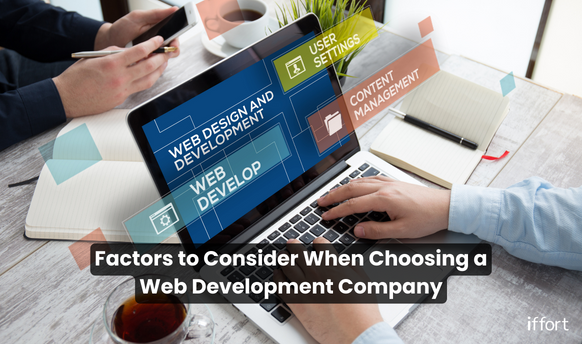 Factors to Consider When Choosing a Web Development Company
Choosing the right web application development company in Abu Dhabi is akin to finding your tribe. Look for a partner that shares your vision, possesses the right expertise, communicates effectively, and fits your budget. When all these elements align, you're well on your way to creating a digital masterpiece that will propel your online success to new heights.
Here are some crucial factors to consider that will ensure your online success.
Portfolio and experience: Like selecting an exquisite piece of art, it's essential to examine a company's portfolio and experience. Pay close attention to the types of projects they've completed and the client testimonials they've received. It's a telling sign of their ability to cater to your specific needs.
Technical expertise: The world of web development is ever-evolving, and staying ahead of the curve is paramount. There are several programming languages used in web development, including HTML, CSS, JavaScript, PHP, Python, Ruby, and Java. HTML, CSS, and JavaScript are used for front-end development, while PHP, Python, Ruby, and Java are commonly used for back-end development.  It's essential to choose a perfect web developer that is proficient in programming languages, frameworks, and their ability to integrate with your existing systems. This will lay the foundation for a truly remarkable digital experience.
Communication and project management: In any creative endeavour, communication is the glue that binds everything together. Seek out a web development company that values regular updates, and feedback, and utilises tools and platforms for seamless collaboration.
Pricing and budget: Finally, the all-important question of cost. While it's tempting to go for the cheapest option, remember that your investment in a web development partner is an investment in your online success. Compare fixed-price and hourly rates and factor in long-term maintenance and support costs. The cost of web designing in the UAE varies depending on the project's complexity, features, and the chosen web development company. Prices can range from a few thousand to tens of thousands of dirhams. To get an accurate estimate, it's best to consult with various web app development companies in Abu Dhabi and request quotes tailored to your specific requirements.
Evaluating and Finalizing Your Choice
Evaluating and finalizing your choice of a web development company is a crucial step in ensuring your online success. It's essential to be intentional and discerning during this process:
Start by requesting proposals and quotes from the top contenders on your shortlist. This will give you an idea of the range of services they provide, as well as their pricing structure.
Dive deep into the analysis and comparison of these proposals. Look beyond the surface and focus on the value they bring and the potential return on investment. Assess their understanding of your vision and how effectively they communicate their proposed solutions.
Engage in interviews and meetings with the company representatives. These interactions will help you gauge their responsiveness, passion, and commitment to your project. Keep in mind, you're not just choosing a service provider; you're selecting a partner for your online journey.
Make a decision based on your specific needs and requirements. Remember, there's no one-size-fits-all solution. Consider factors like expertise, compatibility and scalability. Ask these questions: do they have the right skills and experience for your project? Is their approach and communication style a good fit for your team? Can they adapt and grow with your business in the future?
In conclusion, your journey to online success hinges on choosing the best web development company in Dubai. A company that understands your needs, aligns with your vision and possesses the skillset to turn your dreams into reality. It's time to embark on this transformative adventure and tap into the potential of the digital realm.