We now rely heavily on mobile applications in our daily lives. We use them to access services, purchase online, and stay in touch with friends and family.
Mobile apps provide companies with a direct and individualized connection to their customers. Businesses in Dubai must have a mobile application to keep ahead of the competition in the current industry. As you must have seen that the UAE digital marketing industry has witnessed remarkable growth over the years.
Unquestionably, having a well-made, user-friendly mobile application is now more of a requirement than a luxury. Mobile applications enable businesses to create close ties with their audience by providing unmatched ease, accessibility, and tailored interactions with customers. Beyond enhancing user experience, a well-designed app may also create brand loyalty, boost consumer engagement, and provide companies a competitive edge in the crowded Dubai market.
We'll look at some of the advantages of employing the top application developer in Dubai for your company in this blog. We will also look into the features that distinguish top developers from the competition, including high-quality app creation, smooth connection with current systems, and improved security measures.
You will obtain invaluable knowledge that will enable your company to flourish in the dynamic digital environment of Dubai by comprehending the function of mobile applications in business success and the significance of selecting the correct developer.
Understanding the Role of Mobile Applications in Business Growth
Mobile apps have completely changed how companies communicate with their customers and run their operations. Having a mobile app gives businesses a direct and customised link to their target audience because so many people access the internet via mobile devices. Mobile apps are crucial resources for business expansion since they provide accessibility, convenience, and quicker reaction times.
With the use of an app, businesses can provide customers with a seamless user experience that makes it simple for them to browse products, make transactions, and access services.
Furthermore, by involving consumers and fostering a sense of exclusivity, apps can assist improve brand loyalty. A strong well designed mobile app can give companies in Dubai, where there is intense competition, a competitive edge.
The Importance of Choosing the Best Application Developer
Even while the importance of having a mobile app for your company is clear, choosing the appropriate application developer is just as crucial for success.Whether it's mobile app development or building a new website, partnering with a reputable app or web development company in Dubai provides the expertise needed to drive results.
The top application developers in Dubai have the knowledge, abilities, and practical experience necessary to produce an excellent software that supports your company's objectives.
A local developer in Dubai will be able to comprehend the user preferences, market trends, and cultural quirks that are crucial for creating an app that appeals to the intended audience. Furthermore, close proximity enables efficient communication and teamwork throughout the development process.
Businesses must take into account a variety of aspects when choosing an application developer, including their portfolio, level of technical proficiency, and capacity for meeting deadlines. Investing in a skilled developer can significantly impact the app's functionality, user experience, and overall success.
Exploring the Benefits of Hiring the Best Application Developer in Dubai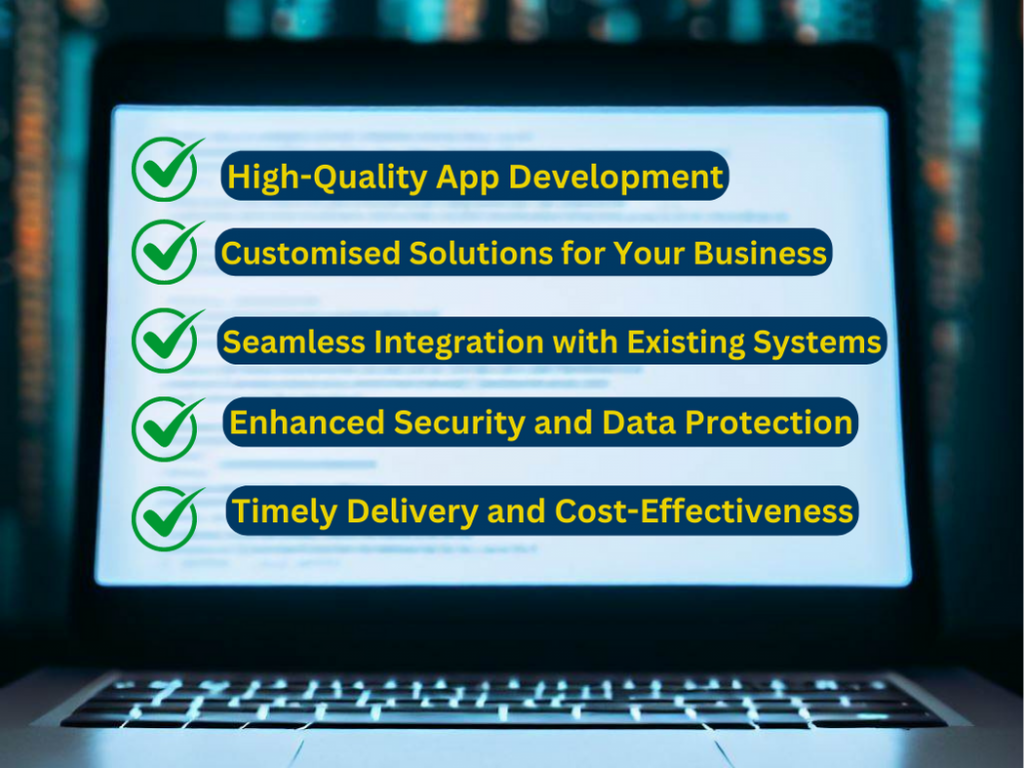 1. High-Quality App Development
When you collaborate with the best application developer in Dubai, you can expect a high-quality app that meets industry standards. The developers possess a deep understanding of app development principles, coding best practices, and user experience design. Their expertise allows them to create a smooth, efficient, and bug-free app that provides a seamless user experience.
The advantage of a high-quality app lies in its ability to reflect positively on your brand's reputation. A well-designed and functional app can leave a lasting impression on users, enhancing their perception of your business. On the other hand, a poorly developed app with frequent crashes and performance issues can have adverse effects, leading to customer dissatisfaction and a negative impact on your brand image.
2. Customised Solutions for Your Business
Application developers in Dubai excel at comprehending the particular needs of your company and customising the app to meet those needs. They take the time to learn about your goals and target audience before determining the precise features and functionalities that will help you achieve them.
The app can be tailored to fit your branding, reflect your company's unique personality, and cater to the tastes of your consumers. By fostering a relationship between your brand and your customers, this personalised strategy raises user engagement and loyalty.
3. Seamless Integration with Existing Systems
It might be difficult for established firms to integrate a new mobile app with their current systems and procedures. The top application developers in Dubai have the knowledge and skills necessary to handle this procedure with ease. Your CRM, inventory management system, payment gateway, or any other business-critical systems can all be smoothly integrated with the app.
Real-time updates and correct information for your users are made possible through easy integration, which makes sure that data moves between the app and your backend systems without any problems. As a result, operations become more streamlined, more efficient, and require less manual labour, all of which improve productivity.
4. Enhanced Security and Data Protection
It is crucial to ensure the security and safety of user data in a time of rising cybersecurity threats. Top application developers are aware of this issue and use strong security precautions during the app creation process.
They use secure authentication procedures to safeguard user accounts, employ encryption algorithms to secure data transmission, and carry out routine security audits to spot and fix problems. These developers gain your clients' trust by placing a high priority on data security and user privacy, giving them the peace of mind they need to utilize your app.
5. Timely Delivery and Cost-Effectiveness
Delays in app development can have significant consequences for businesses. Application developers understand the importance of timely delivery and adhere to strict timelines. Their expertise and streamlined development processes help them avoid unnecessary delays, ensuring that your app is launched on schedule.
Moreover, while it may seem counterintuitive, hiring a good application developer can lead to cost savings in the long run.
These developers have the knowledge and experience to do things right the first time, minimizing the need for expensive rework or fixing bugs later on. Additionally, a well-designed app with smooth functionality attracts more users, leading to a higher return on investment for your business.
Now, If you are confused between hiring an Application Development Company or Outsourcing, you can get clarity on this by reading our blog – Application Development Company in Dubai vs Outsourcing Abroad
Conclusion
In short, the business world is changing rapidly and mobile applications have become an essential part of success. For businesses in Dubai, hiring the best app developer can be a game changer. The benefits of having a high-quality, personalised and perfectly integrated application are numerous.
In addition, advanced security and fast delivery provided by leading application developers ensure businesses can stay ahead of the competition and meet ever-changing market needs. So if you want to take your business to the next level, invest in the best app developer in Dubai.