The cost of developing an app is high. If you're serious about attracting users and making money, you should expect to sink a lot of cash into it. Fortunately, there are lots of methods to differentiate your app from the competition and attract users' attention. From initial research, to design, testing, and added costs. We've got you covered. Here is all the information you require on the cost to develop an app.
How Much Does it Cost to Conduct User Research?
You must conduct some user research before you start designing your app. This will help you decide what elements your app needs and identify any issues users might have with it. Plan your budget carefully as user research can be more time-consuming and expensive. Researching on paper might help you save time and money if you're just starting out with app development.
Here are a few techniques for user research
Interview People – You can have in-depth one-on-one or group interviews with actual users. To fully understand your users' demands, it's important to conduct multiple interviews.
Observe Users – Watch what your users do and listen to what they say, to monitor user behavior, you can also use programs like Screenhero or Intercom.
Use surveys – A survey is a quick and simple method to get information from many users without asking them to provide in-depth answers.
How Much Logo and Branding Designs Cost?
The branding and logo of your app are undoubtedly the most crucial elements of its layout. You should pick a logo that accurately represents your company and sends the proper message to potential buyers. You can hire a logo designer to design one for you. The price of a logo design starts at around $20 but it varies depending on the size, structure, color scheme, and printed version of the logo. Using a logo design service is another option. There's a high possibility you already have access to one of these logo design services as they are easy to find online. If not, you can create an account with a logo design provider and begin designing logos.
How Much Does it Cost to write the App's Code?
Many factors influence the cost, but the major cost is writing the app code. In order to confirm that the user interface (UI) functions as required, it should be designed, developed, and tested before the actual delivery. Just keep in mind that this operation is highly labor-intensive and expensive.
The following are the major cost one should consider:
Salary for the App Developers – This is very important while you are developing the app, as the hourly fee for application developers ranges between $80 to $100.
Generate Software Licenses – Whenever you are developing an app, software licenses are required. Out of all the software required, a few of them to build an app is free, but the bulk of it is not. The fee depends on number of factors, it can reach up to $120k / year for 50 devices.
How Much Does Testing an App Cost?
Testing is an integral part of application development. Testing helps you to understand whether the functions are aligned with the expectations or not. There are different ways to test an app, but the majority of people in the market use the automated test code as it is the most popular method. To verify the UI and functioning of the app, you may also conduct manual and interactive testing.
Below are some costs related to app testing
App Testing Services – Your application can be tested on a local system, cloud server, or mobile device. The app testing costs vary from 10% to 20% of the total cost, which is around $5,000 to $25,000 or more. If you want to analyze your app and find issues with the design and functionality, you'll need to hire a mobile app testing services company.
App Testing Equipment– To run all automated tests for your app, you'll need a PC, laptop, or smartphone.
How Much Does It Cost To Run on An App Store?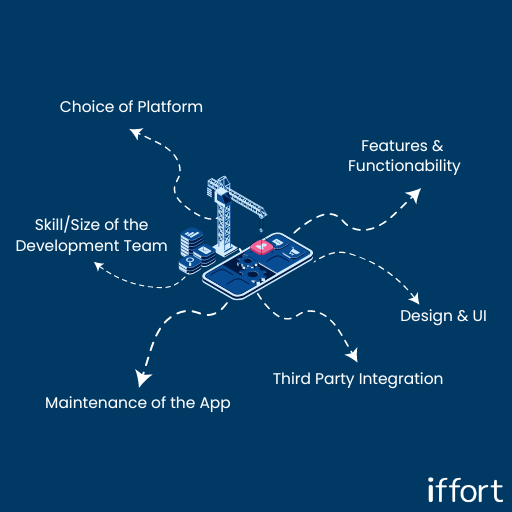 When you launch your app, you'll need to submit it to app stores. You want to make sure people can quickly find your app because the app store is where potential users are finding it. The cost will vary based on the app store you choose as there are different options for submitting your app.
The following costs should be considered when submitting an app to app stores:
An Apple Developer Account – This is required in order to submit an application to app stores, however, it also costs the most ($99 annually).
An Android Developer Account– While it's not required to submit an app to an app store, it's still important for traffic and user retention. For $25 a year, you may purchase an Android developer account.
Submitting an App to App Stores – To submit an app to app stores, you can use a service, manually submit your app, or use submission guidelines.
Conclusion
The app development process is lengthy, difficult, and time-consuming. The good news is that as soon as the design and development are complete, you can begin marketing your app. There are various ways to promote your app, including paid social media postings and advertisements. Once users have discovered your app, you can provide in-app purchases or monthly subscriptions, to engage them more. The cost of developing an app is high, but if done correctly it can be highly rewarding. You may expect to invest thousands of dollars in your application, including early research, design, testing, and support costs. If you are serious about increasing traffic and generating money, you need to be prepared to invest a significant amount of money. Also, there are different ways to differentiate your app from the competition and attract the attention of consumers.